B A R C H E T T A D E D I C A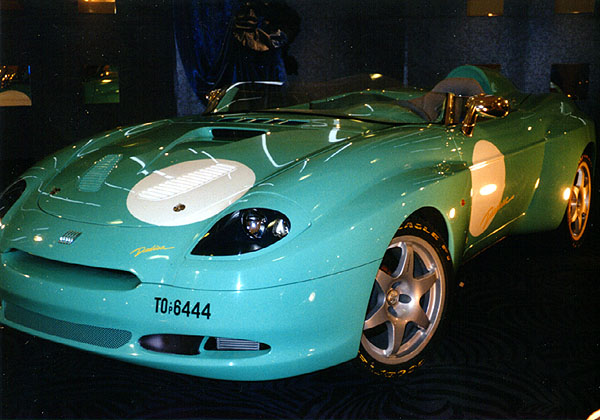 This beast is a prototype by il Gruppo Stola and is called Dedica (Dedication) - a design of Aldo Brovarone. Aldo is a retired designer who used to work with Pininfarina until 1988 and a good friend of Alfredo Stola, managing director.
Gruppo Stola consists of 825 employees working with 120 CAD station, 8 digitally controlled mills and 9 production facilities, but no design studio!

The Dedica features a souped up 2 liter engine from the Coupé Fiat 16V Turbo: it now has 262 bhp, which gives the 1020 kg car a topspeed of 270 Km/h (167 Mph) and 0-100 Km/h in 5.8 seconds.
The interior has been somewhat altered: the center-console is missing, so there are no switches for the windows or ventilation. But these are not needed anymore as the windows are cut down to 20 cms and can't be lowered and the two air vents are replaced by additional dials.
The steeringwheel, pedals and turqoise leather seats are by Momo. Wheels are by Technomagnesio, the 4 airvented breaks by Brembo and tires are Goodyear Eagle F1's.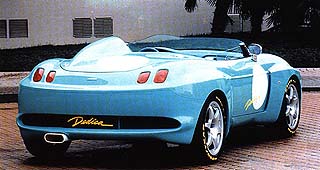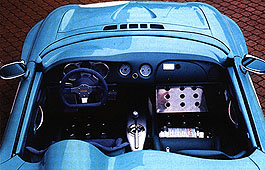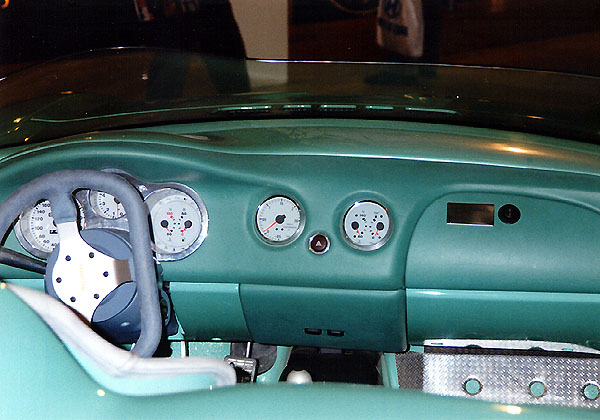 Look at the righthand dial: you can tell by the 'catalyst temp.' indicator that it's a car for
the Japanese market! (left of the 'warninglights' indicator)

Not only was the aim to produce a 50's sportscar, but was also build that way: no prepressed sheetmetal but cardboard templates were used for direct modelling the bodywork, making the car 16 cms wider!
A nice tough is the top of the dashboard which features the bodycolor of the car: a concept that was used for the prototype barchetta, but didn't make it into the final product!
There are no plans for production of any kind.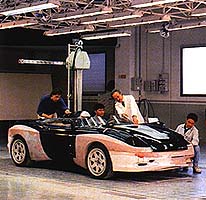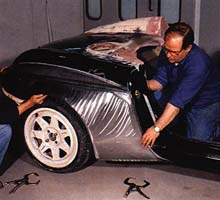 Go to the First European barchetta meeting for more pictures!
Read a review on the review-page.
---
Back