F I A T 1 2 4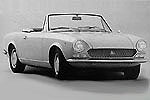 On the Turin Autoshow of 1966, the 124 saloon was introduced. Production of the Italian 124 saloon ceased in 1974.
The 124 Spider was designed and built by Pininfarina.
Sales ended in Europe in 1975; then car was only sold in the USA. When in 1981 Pininfarina took over the whole production process the car was sold in the USA as the Pininfarina Spider Azzura, while in Europe the car was reintroduced as the Pininfarina Spidereuropa. Production finally ended in 1985, after a 19 year production run!
The 124 Coupé was introduced in Turin in 1967 and built by Fiat until 1975 and Seat (Spain) until 1977.
Today the 124 Saloon isn't considered a collectable in Europe, because the similar looking and still built Russian Lada is considered crap (even by Fiat owners :-). Driving a 124 saloon will make people think one drives a Lada...
---

Homepages
Link


---

Site name


---

Author


---

FiatSpider.com
Fiat Dual Point Tune-Up
Thad Kirk
Fiat 124 Sport Spider (German/English)
James Seabolts' FIAT Website
James Seabolt
Ramzi's Fiat Page
Ramzi
Matt Rogers' Spider Page
Matt Roger
Chris's Fiat Page
Chris
Fiats & Jags
(Buyers guide and Online manual)
Eric Henning
SpiderShop
Brett Stacey
Bruce's Spider
Bruce Matthews
Fiat Resources Page
?
My Fiat, a 1973 124 Spider
Vincent Gulley
Fiat Spider Project Page
?
Alessandro's Junkbox!! (Japanese)
Kotaro Jinushi

---

L'Association Berline Coupé et Cabriolet FIAT 124 130 850
Alexandre Nezeys Tacconi
Fiat 124 Coupe pictures (courtisy of the FLCC)

---

Fiat 124 TC
Bruce Matthews

---

Clubs
with internet presence
Link


---

Clubname


---

Contact information


---

Fiat Spider Register Nederland
c/o Hans Vos
Stroeteweg 17
8166 KC Emst
The Netherlands
Tel. 0578-661714
Fiat 124 Spider Club e.V. Deutschland
?

---

Clubs
without internet presence



---

Clubname


---

Contact information


---

Registro Nazionale Fiat 124 Sport Spider
c/o Alberto Brancolini
via Loschi, 44/A
41100 Modena
Italy
Tel. 059-394597
Fiat 124 Spider-Club
c/o Bachmann Jürg
T. 0041/1/7151407
Stockenstrasse 5
8802 Kilchberg
Switzerland