F I A T B A R C H E T T A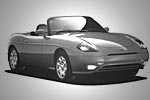 Following the successful launch of the Mazda MX-5, Fiat decided in 1990to reintroduce a small Spider, a niche market Fiat has always been famous for.
The floorplan of the humble Fiat Punto (project code 176) was used, albeitshortened by 17 cms. Five years later the barchetta (projectcode 183) was introduced on the Geneva Autoshow.
Production lays in the hands of coachbuilder Maggiora.
---

Homepages
Homepage


---

Site name


---

Author


---

The World Of The Fiat barchetta
Marc Kloosterman
Fiat barchetta (French)
Michel Bobillier
All about barchetta (German/English)
Bernhard Neidiger
Martin's barchetta
Martin Ammerman
Ralf's Homepage
Ralf Goetz
About me - The Barchetta Page
Sashca Corti
Barchetta
Bernard Bousson
Barchetta
Gideon Zegwaard
Do Skiers Dream of Cabriolet? (Japanese)
Yasuhiro Morishita
Kenichiro NUMA's Homepage (Japanese)
Kenichiro Numa
Coupe Fiat & Barchetta Freaks (Japanese)
Katsuhiko Murakami
Geneva Autoshow
?
Japan Motor Show
?
Something about barchetta (Japanese)
?

---

Italian meeting: May 2 1997
(4 sites)
-
Dutch meeting: June 8 1997
?
Dutch meeting: June 8 1997
Henk de Lange

---

Clubs
with internet presence



---

Clubname


---

Contact information


---

Fiat Barchetta Club France
5 rue Neuve
67550 Vendenheim
France
Tel. 03-88.69.46.06
Fax. 03-88.27.04.49
E-mail: Frédéric Fatoux
Del piacere barchetta
(Germany)
Lousbergstraße 5
D-52072 Aachen
Germany
Tel. 0241/159552
E-mail: Andreas Kleist
E-mail: Jörn Neuhaus
Raten Senpaku Shinko Kyokai
(Japan)
E-mail: Masahiro Kusaba

---

Clubs
without internet presence
Fiat barchetta Club Nederland
Wim de Louw
Maassingel 126
5215 GH Den Bosch
The Netherlands
Tel. 073-6132670
Email: Pieter Derckx