C O U P F I A T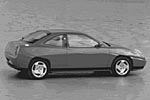 Based on the highly successful floorplan of the Fiat Tipo, project 175, better know as the Coupé Fiat ("Foremost a Coup&eacute, then a Fiat") was introduced in 1993.
In contrast to popular believe, only the interior of the car is designed by Pininfarina, who also builts the car.
The first modification was made in 1996, when the 4 cylinder 2 liter normally aspirated and Turbo engines were replaced by 5 cylinder versions, aswell as fitting of the 1.8 liter barchetta engine.
---

Homepages
Homepage


---

Site name


---

Author


---

Coupé Fiat (Italian)
Fiat
Fiat Coupe Unofficial Homepage
?
DL's Coupé Fiat
Laurent D
Coupe Fiat & Barchetta Freaks (Japanese)

---

Clubs
with internet presence



---

Clubname


---

Contact information


---

Fiat Coupé Club Luxembourg
?

---

Clubs
without internet presence
Coupé Fiat Club
"La Bruta Bellezza"
Jeanet Sieben
Boekweitlaan 99
7906 LC Hoogeveen
The Netherlands
E-mail: Peter Boorsma