F I A T P A N D A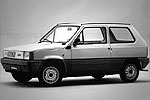 The Giugiaro-designed Panda (model number 141 for the 4x2 or number 153 for the 4x4 version) was introduced in 1980 and production is still continuing. It was Fiat's way to provide cheap transportation for the masses.
In 1986 the Spanish SEAT-version of the Panda was introduced: the Marbella. Production of the Marbella has finally stopped in 1998 after having seen Seat being owned by Fiat, being independent and now being owned by Volkswagen.
But the Panda is still going strong!
---

Homepages
Homepage


---

Site name


---

Author


---

The Panda Page (Dutch)
Walter Bongaardt
Dossier Vallejo
Dollaroexpress Fiat Panda
Panda! Panda! Panda! (Japanese)
Henlik
1991 FIAT PANDA 4X4 IE (Japanese)
Welcome to Panda World (Japanese)
Soichiro Hanazono
PANDA (Japanese)
Shigeharu Ikeda
Michi wa Hosihi no Kazu (Japanese)
Hiroyuki Sakai