F I A T   X 1 / 9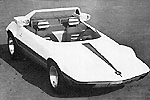 Because the front engine and transmission of the 128 Saloon didn't allow for a smart bodied 128 Spider, Nuccio Bertone desided to go for a mid-engined concept, having some experience with the mid-engined Lamborghini Miura and Marzal.
For the Turin Autoshow of 1969, Bertone produced a 'show car' called Bertone Runabout Barchetta, to try the public's opinion.
In 1973 the X 1/9 was introduced as the 850 Spider replacement.
'X 1/9' is actually the project code given to this car, as was 'X 1/1' the project code of the 128 saloon, 'X 1/3' of the 130 saloon and initially 'X 1/8' and later 'X 1/20' for the successor of the X 1/9 (which turned out to be not a Fiat but the Lancia Montecarlo!).
The vehicle identification number of the X1/9 is "ZFA128"
In 1977 a right-hand-drive version appeared and in 1982 Bertone took over the whole production process and sold it under their own brandname until production ceased in 1987.
<!first the clubs. Should we include a comment/review field?>
---

Homepages
Homepage


---

Site name


---

Author


---

Zach's Fiat World
Zach Collier
X1/9 Cote d'Azur
?
The Fiat X1/9 homepage
?
Steven's Fiat X1/9 Page
?
Zod's Italian Car Pages
Todd
The Life & times of Sparky the wonder car
Vince Gulley
Matthew's Bertone X1/9 Homepage
?
Matt's X1/9 Page
?
Ken's Fiat X1/9 Page
?
Doug's X1/9 Page
?
X 1/9 for sale
Bruce Matthews
Sunaba's X1/9 Homepage (English/Japanese)
Toshiyuki Sunaba
Welcome to X1/9's HomePage! (Japanese)
Hiroyuki Oya
FIAT X1/9 Restoration Dairy (Japanese)
(also mailinglist)
Yasushi Nishi
Horry's Web Site (Japanese)
Takeo Horiguchi
Fiat X1/9
?
Fiat X1/9
?
Goofing around with Autos
David Willison
The X Files
Fiat Pix!
?

---

Clubs
with internet presence



---

Clubname


---

Contact information


---

X1/9 Owners Club
?
Singapore First Bertone X1/9 enthusiasts website
?

---

Clubs
without internet presence
Fiat-Bertone X1/9 Club Nederland
Keimate 5
6663 KB Lent
The Netherlands
Tel. 024-3227666