Saturday evening: the boat
Saturday evening we will board the "Zilvermeeuw". This boat will make a four hours tour through the Biesbosch. The boat has open and closed decks (with heating). As the boat sails one can enjoy a barbecue, walk around, talk with each other, drink, etc. etc.
We arranged a bus to bring us to the boat (and back of course). The bus has a maximum capacity of 75 people. This means there will not be enough place for everybody, so we kindly ask the Dutch guests to take their own car and accompany the bus in style. If you don't go back to the hotel afterwards, maybe it's a good idea to also go by barchetta so you can get back home in time.
The boat tour starts about 07.00 pm (so be on time!) and ends around 11.30 pm.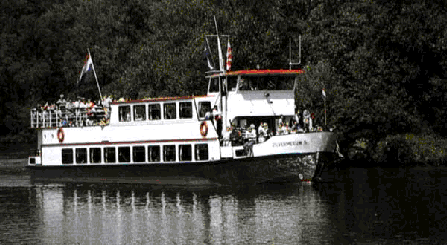 Route description to the boat: (just in case you miss the bus)
leave from hotel turn left, at traffic light left, go straight ahead
just before viaduct (after you've left Oudenbosch behind you ) take exit Dordrecht A17
take exit N285 direction Steenbergen
stay on the N285 until you reach Made
now follow the signs which leads you to Drimmelen
in Drimmelen: follow signs "Zilvermeeuw". That's it!
Frozen Canal
near Dordrecht,
by CH.H.J.
Leickert


The Deltawerken: map of the most important works.
We will pass the items with a red dot.
---
Next page